Hello FOP Church family,
We hope that you're all doing well and staying healthy during this strange time in our nation's history. We're so excited to finally have information about when we can begin meeting in the building again. Below are the details:
NEW Saturday evening services at 5:30pm
Sunday morning services at NEW TIMES 9:30am and 11am
ONLINE service on Sunday mornings at 9:30am (Facebook, YouTube, and our FOP Church app)
Please note that our Sunday morning service times have changed going forward! These new service days and times will continue for all Saturdays and Sundays for the foreseeable future. We want you all to know that we are taking your health and safety very seriously as we begin the process of reopening our building for our worship gatherings. We believe that the below outlined measures will create a safe and healthy environment for our church family to continue meeting in person while maintaining social distancing and adhering to suggested guidelines by our nation's experts:
Saturday and Sunday services:
We have reduced the number of chairs in the sanctuary to about 250 with six feet between each row. With this in mind, we've added a Saturday evening service time to help accommodate our entire church family each weekend. We will not be able to accommodate as many people in each service that we've been able to previously, so we encourage each of you to consider attending our Saturday evening or first Sunday morning service as an alternative to the second Sunday morning service.
All bathrooms, sanctuary chairs and door handles will be sanitized before and after each service.
We will discontinue use of our coffee bar and water fountains in the building for the time being. We encourage everyone to bring their own coffee and water if you feel you will need it during the service. This applies to our FOP Kidz and FOP Jr. Kidz ministries as well.
Hand sanitizer dispensers have been mounted on the walls in various areas throughout the church for use before and after services. We encourage everyone as they enter and exit the building to use the hand sanitizer and/or wash their hands.
While we hope these measures will make our church family feel safe when you choose to worship with us in person in our building, we encourage those who are not feeling well or are considered at high risk for illness, those with weakened immune systems, our elderly church family with underlying medical conditions, and anyone who is not yet comfortable meeting in our building to join us online every Sunday morning at 11am. If you're not able to meet with us in the building, you are still very much part of our church family and we hope you'll continue to connect with us online until you're able to gather with us in person. The online service will be available on our mobile app, our YouTube channel and Facebook at 11am each Sunday.
At the end of each of our services, we are asking everyone to please exit the building as quickly as you're able to and continue post-service fellowship outside to improve social distancing. This will help us avoid congested areas in our lobby and hallways as well as allow our staff time to sanitize the building before and after each service.
We encourage anyone who chooses to give tithes and offerings in the building to utilize our Giving Stations located on the walls of the sanctuary upon entry or exit of the sanctuary.
If you prefer to wear a mask in the building, you are welcome to do that. However, we are not requiring masks to be worn in the building.
Until further notice, we will not be having our First Wednesday services.
FOP Kidz and FOP Jr. Kidz classes
FOP Kidz and FOP Jr. Kidz classes will be available during our Saturday and Sunday service times beginning Saturday, May 30.
All children and volunteer workers will have their temperature taken by an infrared thermometer before checking in at a check-in station. The CDC recommends that anyone with a temperature of 100.4° or higher, or that demonstrates other signs of illness (specifically fever, cough or shortness of breath) should not enter any childcare facility. We will be enforcing this recommended guidance for all of our childcare rooms in the building. If your child has a temperature above this recommended guideline, they will not be permitted in FOP Kidz or FOP Jr. Kidz and we ask that you plan to leave the service immediately to ensure the safety of others.
With this additional precaution for child check-in, we are asking that parents who choose not to check their child into FOP Kidz or FOP Jr. Kidz at the beginning of service please keep their child with them for the duration of the service. This is an effort to maintain the safety and health of all the children in the class. Check-in stations will close at 5:40pm, 9:40am and 11:10am and will not permit additional check-ins after those times.
We are also asking that any child who must leave FOP Kidz or FOP Jr. Kidz classes in the middle of service for any reason to please remain with their parents in the service and not re-enter class.
Additional check-in stations have been setup to help parents and families maintain social distancing while checking in their children.
Hand sanitizer dispensers have been mounted in every childcare room. We are asking all volunteers to use the hand sanitizer upon entry or before they exit the classrooms.
Additional classrooms will be used in an effort to promote social distancing for larger groups of children.
All classrooms, equipment and toys will be sanitized before and after each service.
All door handles and bathroom surfaces in the childcare rooms will be sanitized before and after each service.
During this time, please refrain from bringing personal children's toys or non-essential care items into the childcare areas (including toys, play items, hand-held devices, etc.)
FOP YTH services
FOP YTH services will resume on Sunday evenings for our high school students in our main sanctuary beginning Sunday, May 31.
All door handles and bathroom surfaces will be sanitized before and after each service.
No food or snacks will be provided by FOP Church.
We understand that there has been so much uncertainty and fear over the last few months, and there is even more concern as various venues begin to reopen. Isaiah 41:10 says,
"So do not fear, for I am with you; do not be dismayed, for I am your God. I will strengthen you and help you; I will uphold you with my righteous right hand."
As we enter this next phase of reopening our building and resuming our worship gatherings, we are rejecting fear and holding onto the promises of God while still diligently taking extra measures to ensure the safety of all our church members.
If you have questions regarding the above outlined measures, please do not hesitate to contact us in the church office at (937) 289-9800 or by emailing
[email protected]
We are very excited to be able to meet with you all in our building again and we look forward to seeing all the ways God will use this very unusual time for His glory.
We love you and are praying for you!
Pastors Matt and Bobbi Morgan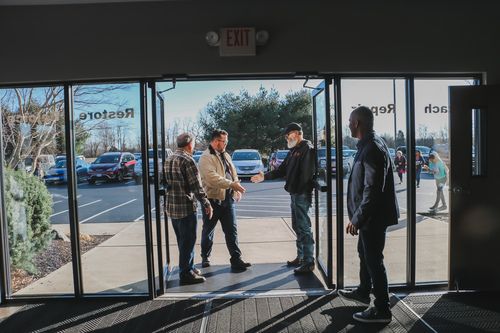 FOP Connect is a two-week course that helps us get to know you and your talents, and then connect you with areas at FOP Church where your talents can be used and grown. FOP Connect is offered the 2nd and 4th Sundays of each month at 9:00 AM in the youth room upstairs. To sign up to FOP Connect, fill out an
Info Form
.
Our small groups are an integral part of the community at Fellowship of Praise. It is our desire to be "full of purpose" with people who will encourage, uplift, and inspire personal and spiritual growth. If you are interested in joining an FOP Group or becoming a leader, you can
get more info here
.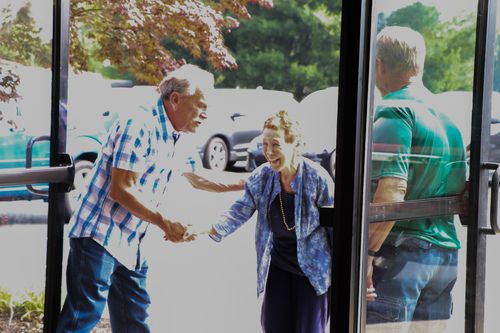 Led by Leon and Karen Bailey, we encourage those who are 50 and over to participate in activities that foster spiritual growth and health, age-level educational pursuits, evangelistic outreach, and wholesome fellowship events. We enjoy quarterly luncheons, outings, and services.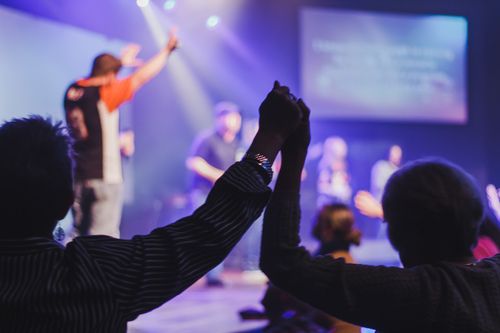 The Breaking Chains ministry provides prayer rooms set up with inner healing and deliverance in mind. Sessions are on the second Monday of each month at 6:30 PM by appointment only. All sessions are confidential. Contact Brenda Cox at
[email protected]
Our WIDOWS ministry seeks to provide spiritual support, resources, and community for others who have lost their spouse. Led by
Rayenell Friend
, widows of all ages are welcome. The Widows ministry serves at Your Father's Kitchen on the fifth Thursday of each month at 5:30 PM.
At Fellowship of Praise, we are passionate and intentional about worshipping our Heavenly Father. If you are interested in becoming a part of our band or vocal worship team, fill out an
Info Form
and we'll contact you to set up an audition date.
We have several ladies events each year including a summer canoe trip, ladies conference and a Christmas party as well as several "ladies only"
FOP Groups
offered each session. Check the calendar to get more information on our ladies events!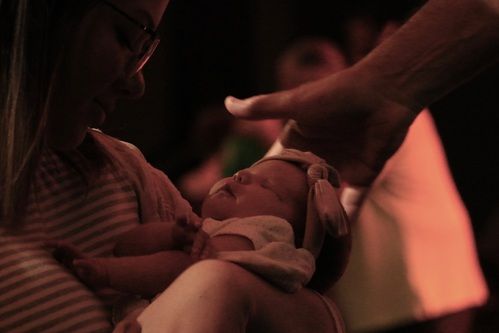 We are here to help women walking through the unsteady season of an unplanned pregnancy or navigating single motherhood by connecting them to a judgement-free support group. Partnered with several pregnancy centers in our area, we aim to love and disciple single moms while connecting them with our church family. To get involved, email Rachel Frueauf at
[email protected]
.
Check out our latest sermons by listening to our podcasts. These are also available on iTunes and Google Play. If you hear something inspiring, don't forget to share!